Launching today: Paratopic: Definitive Cut, Linux & Steam
---
Hello, everyone.
Paratopic: Definitive Cut, Linux support & our Steam build all launch today!
Linux
We've now got a Linux build. I hope it runs well and with minimal problems, though of course there is a significant disparity in range of distros & configurations vs. what we have available to test the game on. Any issues, throw an email to contact@ArbitraryMetric.com and we'll prioritize getting things fixed.
Definitive Cut
The Definitive Cut edition is, as the name might imply, an extended edit of the game. A couple of new areas to visit, a host of tweaks & adjustments and a good deal of quality of life improvements. Some change are highly visible, some are hard to see with the naked eye, but every part of the game has been hit with improvements.

Some of these are responses to feedback and watching others play the game. Others are items that we simply didn't have time to realize in the original release. Together, we reckon that the game is now approximately 15% better than it originally was.
It's available to everyone who already owns the game, so now is as good a time as any to revisit Paratopic!
Steam
We have also gone live on Steam today. Everyone customer on Itch has a complimentary Steam key. You can find it by visiting the download page for Paratopic. Any problems? Reach out to us via contact@ArbitraryMetric.com.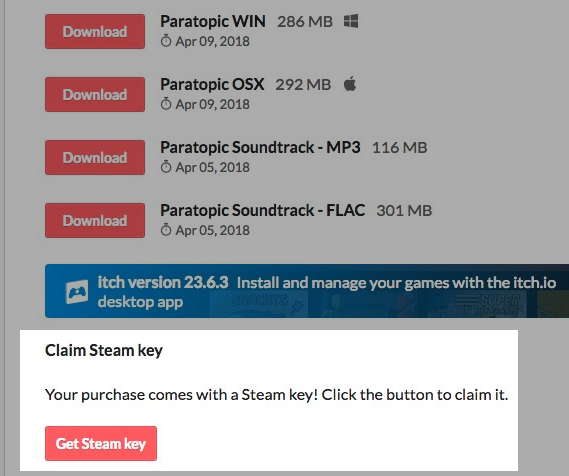 If you enjoyed the game, then a review on Steam would mean all the world to us. Sadly, Steam doesn't count external keys towards the Positive/Negative display on the storepage, though reviews are still visible for all to see. If you know of anyone purchasing the game through Steam, it would be a great boon to us if you could encourage them to leave a review as well! Steam's algorithm needs constant food and attention.
Thanks for all the support, kind words and enthusiasm you've shown us with Paratopic.
- Arbitrary Metric.
Comments
Log in with itch.io to leave a comment.
So good. Please, just, more of this.
i always appreciate free updates, so thank you !